Traceback your Product
and explore your
impact on people
& the environment
100%
of SEKEM's Employees receive sustainable-economic awareness trainings.
100%
of SEKEM's action is to ensure a sustainable impact and engagement with the local community.
100%
of SEKEM employees have place to participate in regular creative activities
100%
of SEKEM's focus lies on proper waste management and optimizing its packaging material.
This sesame originated in Egypt, in locations along the Nile delta like Fayoum, Minia, Aswan, and more. It grows on Demeter and organic certified farms, following the holistic principles of Economy of Love.
Following biodynamic principles, the farms use biodynamic spray and compost preparations on the crop which boosts the quality and regenerative capacity of the soilre banned, this renunciation is actively protecting water and air from pollution.
The farms are treated as a whole organism in which each element of the farm contribute to its well-being. Plant waste and animal manure are treated into compost that boosts the regenerative ability of the soil and humus formation.
The sesame is cultivated according to the dates of the cosmic calendar, which puts it in total harmony with the land and the cosmic forces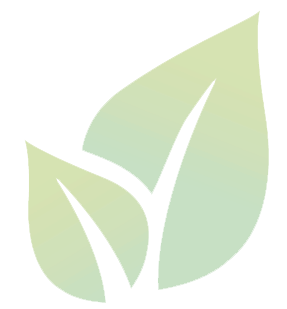 get to the source of production
Rafaat
Farmer in Giza, Egypt
Rafaat has been growing biodynamic crops, including sesame, on his farmland that has been Demeter certified for more than 25 years. He is one of the pioneers in biodynamic agriculture in Egypt, and is always making sure to stay updated with any new developments in the field.
Tarek
Farmer in Giza, Egypt
Tarek Waheed is one of the pioneers in converting to biodynamic agriculture. He started back in 1997 by certifying his farm Demeter and is staying ahead of the game by certifying his farm EoL. Tarek embodies EoL concepts with his literacy initiative now reaching 25 women participants.
Gomaa
Farmer in Fayoum, Egypt
Gomaa Hassan has his own Demeter-certified biodynamic farmland in Fayoum, where he grows Sesame along with other crops. He's been working in biodynamic agriculture for 24 years. Which is why he believes in the importance of growing biodynamic, as it protects his family's health and his land's ability to regenerate itself, allowing him to generate double the production
The sesame comes directly from the farm and arrives at Lotus company. Lotus does sample tests to ensure the organic and Demeter production of the sesame. Once it passes the test the sesame is then taken to be purified, sieved, and cleaned into raw sesame.
Lotus machines are currently running on non-renewable energy, but they have a plan to replace it with renewable energy to reduce their carbon footprint.
SEKEM provides health insurance and safe working conditions and promotes well-being for their worker.
Lotus insures the optimum use of resources by sorting out the sesame into three categories; 1st is the sesame product, 2nd is being turned into sesame oil and the 3rd is being transformed into compost, making sure that nothing goes to waste.
When the sesame arrive at the iSiS Organic Food Company, samples are taken to be tested to ensure the standards of organic and biodynamic approaches are met. The sesame arrives in 25KG paper bags that are then packed into the final paper packaging box.
EOL's wheel of balance was inspired by SEKEM to maintain a balanced and positive impact on people and the environment.
Isis factory was able to reduce its organic wastes by 25% which reflect positive impact on the environment.
SEKEM is a role model for women empowerment and equality by developing a gender strategy with guidelines on how to support women in education and at work.
The Sesame grain could be responsibly grown and processed, but its packaging material and the companies from which they are sourced do also have a huge impact on the products' lifetime, and cannot be neglected.
The boxes are made of paper which is produced in a factory in Cairo that promotes worker safety and Corporate Social Responsibility (CSR) activities.
All of SEKEM actions are based on creating an ethical and sustainable economy with a positive impact on people and the environment.
Some packages require plastic wrap to meet customer's requirements. but the company is committed to finding more eco-friendly alternatives.
The sesame grains packages are now ready to be distributed directly to your home, local shops, or overseas.
Calculating the estimated emissions from all the farmers and the transportation emissions from farm to the final consumer
Distribution process is under the supervision of Isis to ensure the selection of the shipping cars to be cleaned and qualified for the process.
The first choice is always sea freight to reduce emissions, however air fright is needed sometimes.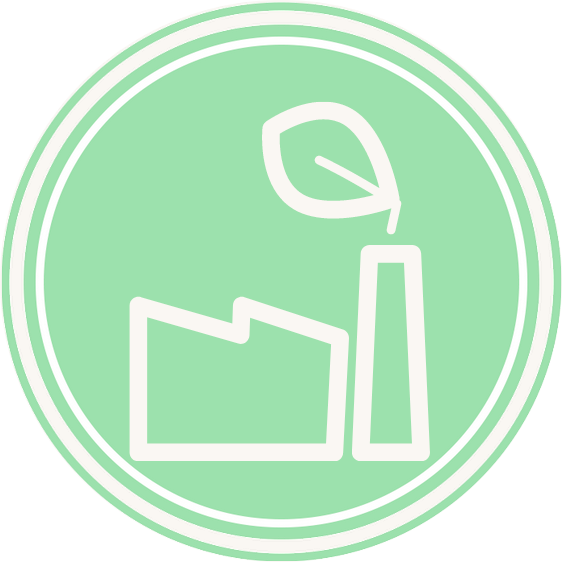 have a look, who processed, packaged and distributed your product
Marwa
Quality Manager in iSiS
Marwa has been working in the tea department of iSiS factory for more than 8 years. Together with her husband and two children, she lives on the SEKEM farm.
Ahmed
Factory Engineer at SEKEM
Ahmed has been working in SEKEM for four years, and lives right next to the SEKEM farm with his family.
Ahmed
Factory Engineer in Lotus
Hassan is in charge of the cleaning and packing machine in the processing facility of Lotus. He has been working in Lotus for 17 years and enjoys that work is combined with cultural programs.
Abd El Magid
Distributor in SEKEM
Abd El Magid has been an employee in SEKEM for over 15 years. He is responsible for distributing the finished products to stores all over Cairo.

Are there hidden costs that the price doesn't reflect?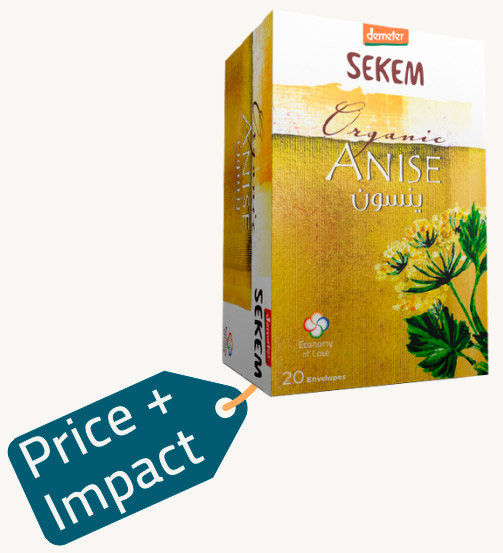 Sustainably & ethically produced products add value to society. However, when comparing prices, we don't take into account the long-term impact of the product. For example, since this Anise is sequestering Co2e it is actually saving up to 0.35USD per kilo! This means that it is cheaper than products that emit Co2e, but so often the price tag doesn't reflect that.
We encourage you to compare products based on their true price; the price that reflects the hidden costs that we and future generations eventually pay for.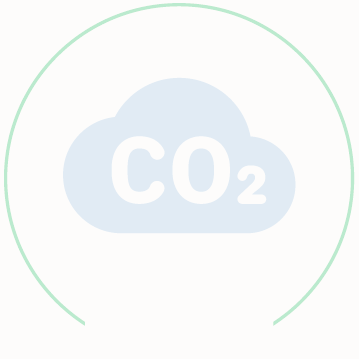 This Anise saves up to 0.35 USD/Kilo, by sequestering carbon from the atmosphere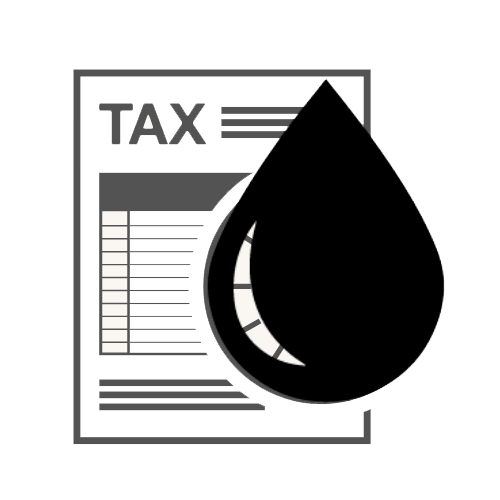 WATER
REPROCESSING COST
Society is paying taxes to clean water sources from agriculture's chemical fertilizers, pesticides, and herbicides, as well as the irresponsible disposal of wastewater from factories, in order to make it usable/drinkable water.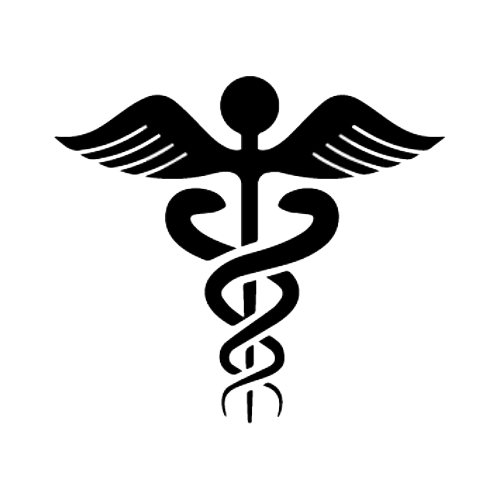 HEALTH COSTS
The use of pesticides in agriculture eventually affects the human body and therefore increases medical treatment costs.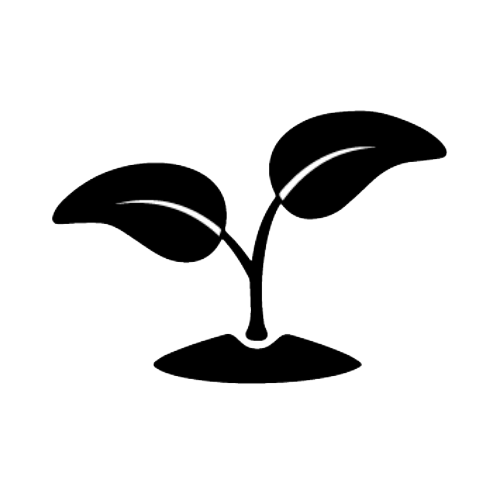 ENVIRONMENTAL
DAMAGE
Society has to bear the long-term cost caused by disruptive agriculture e.g. soil erosion, desertification, and loss of biodiversity.
Check out the locations of all the farms, companies who were involved in making this product!
discover the origin of your product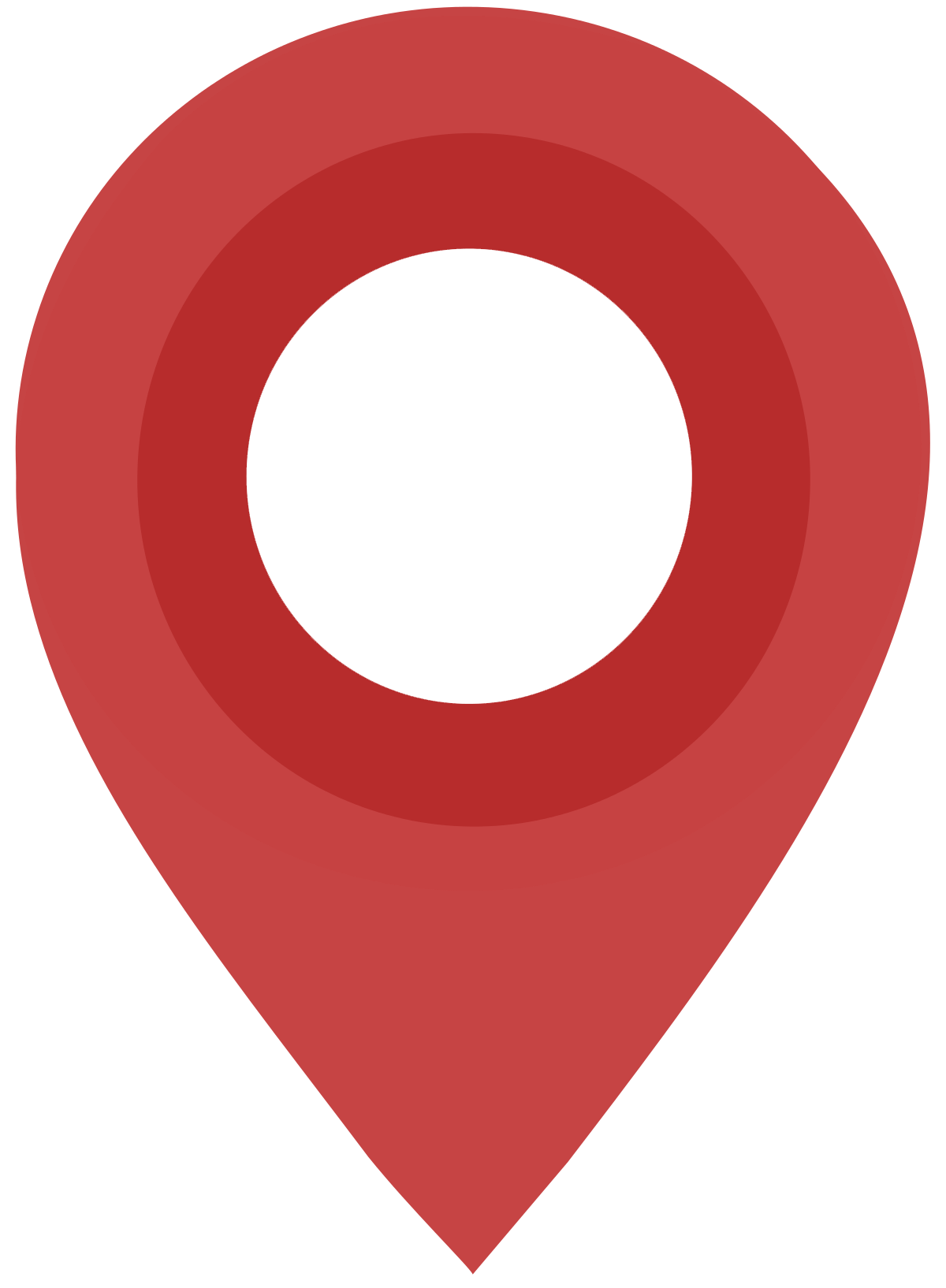 We hope this information helped you Choose Your Impact!
And make mindful purchasing decisions that leave a positive impact on people and the environment
Interested to know more about the companies above? Click here to download the SEKEM Sustainability Report