Our Carbon impact partners
With the agricultural methods of biodynamics, the Economy of Love Standard is committed to actively increasing carbon sequestration through afforestation projects, compost production, soil carbon sequestration, and the implementation of renewable energy on EoL licensee farms. The EoL carbon credits are valuing the high environmental service of our farmers and provide an additional income through the sale of CO2 certificates.
Imagine an agriculture of the future which
Mitigates Climate change 
Promotes fairness and well-being of farmers by fair compensation
Fosters affordable sustainable and healthy food consumption
Scope of upscaling Economy of Love
Economy of Love (EoL) strives for a fundamental shift in global agriculture and business sector. In order to support a regenerative future, the EoL standard fosters an ethical, sustainable and transparent supply chain from farmers to consumers. 
The first EoL prototype on carbon farming in Egypt has been completed on a 830 acre pilot desert farm in the Wahat Baharya Oasis. As illustrated in the following figure, the farm has shown significant results indicating that regenerative agriculture under EoL guidelines can contribute to mitigating the adverse impact on climate. Following the promising signs from the prototype project, the EoL scheme was introduced to 2,100 smallholder farmers (members of EBDA), who are currently in the process of verification and validation according to ISO 14065 & ISO 14064-3. The guidance and reporting as well as the development of the project design documents is managed by the Carbon Footprint Center of the Heliopolis University, certified according to ISO 14064-1 & ISO 14064-2. Farmers who are committed to the ecological and social regenerative practices can benefit from the financial incentives through the carbon credits scheme.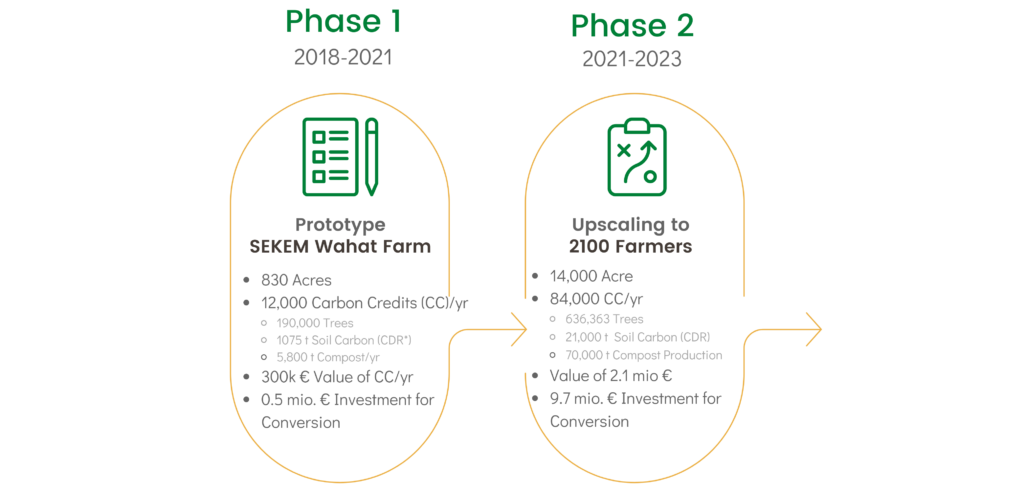 2025 we aim to reach 40,000 farmers implementing the EoL standard and thus benefit from EoL carbon credits. We are setting out a supremely ambitious vision for upscaling EoL by 2028. We envisage enhancing the economic resilience of the farms, climate adaptability, and subsequently stimulate regenerative agriculture in Egypt, through the transformation of around a quarter of a million farmers to EoL standard, making a significant contribution to combat climate change with roughly 9.6 million tons of CO₂ accounted as sequestration and avoidance (see below phase 3 & 4).